Shakespeare Schools Festival
Shakespeare Schools Festival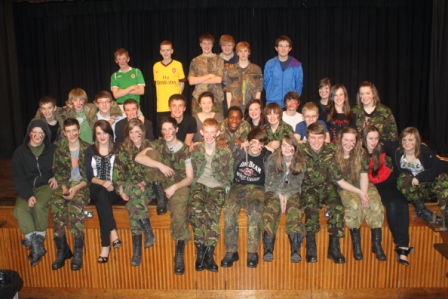 Here are some links to current performances:
http://www.mourneobserver.com/documents/171012SD.pdf
http://kilkeelhigh-muchado.blogspot.co.uk/p/soldiers.html
http://kilkeellovesshakespeare.blogspot.co.uk/p/forest-characters.html
"LAY ON, KHS!" – "Macbeth" at the Waterfront.
Shakespeare Schools' Festival is a UK-wide festival where each autumn 600 schools perform a 30 minute edited version of a Shakespeare play; SSF book professional theatres in each region and each night 4 schools perform. It is not a competition; their aim is to encourage as many students as possible to perform Shakespeare's work onstage. We are free to interpret the play as we wish but we must respect the original language.
This is KHS's fifth year to take part; support has grown and it is now an annual fixture of the school's calendar. We rehearse after school and on Saturday mornings in the weeks coming up to the performance date. We had a cast of 29 this year and the sound and lighting teams are made up of our own students who then get to operate the equipment at the Waterfront. It is a team effort and, as time has gone on, more and more ex-cast members who have left school come to support us in the theatre where there is always a strong Mourne presence!
Kilkeel High School, Knockchree Avenue, Kilkeel, Co. Down BT34 4BP N. Ireland | Telephone: 02841762365 | Fax: 02841765038

Website by School Web Design | Login