Motor Vehicles Studies Staff
Mr M Pobloth
Subject Leader of Motor Vehicle Studies, MEd, PGCE
Motor Vehicle Studies
This subject is studied within years 11 and 12.
Some of the areas which are studied within this subject are:
- Vehicle Control and Road User Behaviour
- Legal Requirements
- Road Transport and its effect on Society
- Motoring Mathematics
- Accident Procedures
- Motor Vehicle Technology
Each of these sections are broken up into sub sections where the students will learn about some of the following:
- The Highway Code
- Pre-Riding Checks (motorcycle)
- Pre-Driving Checks (Car)
- Road Conditions
- Changing a Punctured Wheel
- Emergency Safety Procedures while on a motorcycle or in a car
- Responsibility while on the Road
- Drugs and Alcohol
- Reasons for road accidents
- Common Offences
- Insurances
- Driving Licence
- Early Travel and Transport (ancient times)
- Pollution
- Buying a vehicle
- Accident Procedures
- Car and Motorcycle Mechanics
By the end of this course students will be very well informed in terms of all the theoretical information with regards to cars and motorcycles. The information that they have acquired may also play a part in later life as it will have educated them in road safety and the responsibilities they possess as road users.
News
21st Nov 2019
Road Safely Week - Lower 6th students took part in a workshop aimed at young and...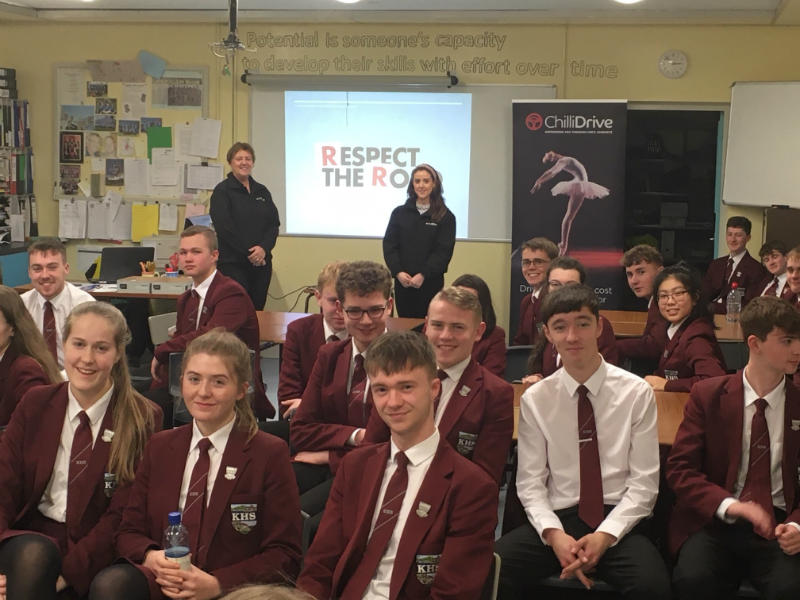 Kilkeel High School, Knockchree Avenue, Kilkeel, Co. Down BT34 4BP N. Ireland | Telephone: 02841762365 | Fax: 02841765038

Website by School Web Design | Login